Please note our Searchroom opening hours have changed
Our Searchroom opening hours changed in April 2017. The new hours still include a 'long week', when we will be open Tuesday-Saturday, with a late evening on Tuesday, to accommodate visitors who travel a long distance or who work regular office hours.
Before your visit, you may also like to read our information about using the Searchroom.
Why the Searchroom opening hours have changed
We changed the Searchroom opening hours because, like all public services, the ERO is facing tough financial challenges. With reductions in public sector budgets, we are not able to sustain our current opening hours. We are operating with a smaller team, and reducing our hours means we will be able to staff the Searchroom sufficiently to maintain service levels on the days when we are open. In addition, advances in digitisation mean that the way people access records is changing, with more users accessing records online from home, or making shorter visits and digitising the documents they want to see.
We have thought carefully to try to come up with a 'best fit' solution, based on current patterns of Searchroom visits. We also ran a survey throughout February 2017 to ask users how the changes would affect them, and the majority told us that the changes would have either a minor impact or no impact on them. We appreciate that the change means that some users will have to adjust the way they use the service, but we hope we can still accommodate most of the needs of our visitors.
Whenever you visit, you will still be assured of a warm welcome to the Essex Record Office.
Opening hours from Tuesday 4 April 2017:
From Tuesday 4 April 2017 we will be open for one long week (shown in dark blue) followed by three shorter weeks (shown in light blue).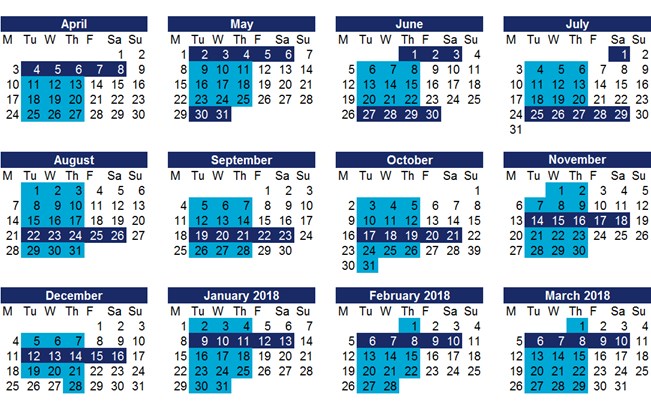 On the days we are open, the hours will be as follows:
Longer weeks (dark blue)

Shorter weeks (light blue)

Monday

Closed

Monday

Closed

Tuesday

10:00-20:00

Tuesday

10:00-17:00

Wednesday

10:00-17:00

Wednesday

10:00-17:00

Thursday

10:00-17:00

Thursday

10:00-17:00

Friday

9:00-16:00

Friday

Closed

Saturday

9:00-16:00

Saturday

Closed