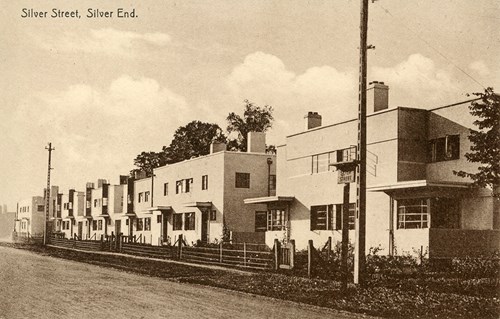 Speaker: Adam McKie
The village of Silver End in north Essex is regrettably rarely mentioned by historians, but in many ways encapsulates the troubles and idealism of interwar Britain. The end of hostilities in November 1918 brought with it a fear of revolution and violence which centred on the nation's evolving relationship with capitalism. Silver End was the Crittall Manufacturing Company's self-conscious attempt to rectify the major ills in society and build a 'modern utopia', but this vision was never passively absorbed by its residents and the village quickly developed its own socialist identity in opposition to its original vision. This paper will explore the context, construction and development of this unique village between 1926 and 1939.
The Essex History Group meets at ERO for talks on varied historical subjects. There is no formal membership and all are welcome. Talks start at 10.30am, with refreshments before and after. Our lecture theatre is accessible to people in wheelchairs and has an induction loop.
Please book in advance then pay the £5 admission fee on the door.
Tuesday 5 February, 10.30am-12.00noon - FULLY BOOKED
Tuesday 12 February, 10.30am-12.00noon 
To be kept up to date on the Group's activities please join our Essex History Group mailing list.