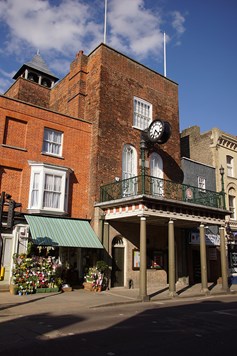 Speakers: Mike Fogg and Penney MacAvoy
The Grade I listed Moot Hall is one of the most historically important buildings in Maldon. The building has its origins in the 15th century, and is a fragment of a much larger house built for the wealthy and powerful Sir Robert D'arcy. It is a masterpiece of the medieval bricklayer's art, and was at the forefront of architectural innovation or its day. Over the centuries it has been not only a private house, but a courtroom, a prison, a council chamber, and a police station. This talk will use photographs to take you on a guided tour of the building, without the need to go up and down the tower's many steps!
Tuesday 5 March, 10.30am-12.00noon 
Tuesday 12 March, 10.30am-12.00noon 
To be kept up to date on the Group's activities please join our Essex History Group mailing list.