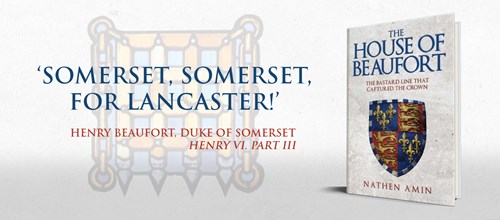 Speaker: Nathen Amin
The House of Beaufort played a pivotal role in the Wars of the Roses, being chief supporters of the House of Lancaster and lending legitimacy to Henry VII's claim to the throne. But their story remains largely untold, until now. Join Nathen Amin, author of The House of Beaufort, to find out more about this incredible chapter of England's history. Nathen is also the founder of the Henry Tudor Society and has featured discussing the Tudors on BBC radio and television, as well as in print and online media across the UK.  Copies of Nathen's book The House of Beaufort: The Bastard Line that Captured the Crown will be on sale.
The Essex History Group meets at ERO for talks on varied historical subjects. There is no formal membership and all are welcome. Talks start at 10.30am, with refreshments before and after. Our lecture theatre is accessible to people in wheelchairs and has an induction loop.
Please book in advance then pay the £3 admission fee on the door.
Tuesday 4 September, 10.30am-12.00noon or 2.00pm-3.30pm
Please note that both talks will take place on the same day, one in the morning and the repeat in the afternoon
To be kept up to date on the Group's activities please join our Essex History Group mailing list.