Join us for screenings of a range of films in the ERO lecture theatre as part of the BFI's Neighbourhood Cinema programme. We show British and foreign films, classic and modern. Tickets are £5 on the door, and you can reserve your seat using the booking links below.
Sweet Bean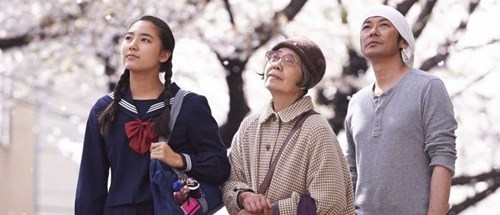 This 'graceful, delicate and compassionate' Japanese film – directed by Naomi Kawase – was selected to open Un Certain Regard at the Cannes Film Festival in 2015.
Sweet Bean is the name given to a delicious red paste in the middle of the dorayaki pancakes that Sentaro sells from his bakery to a small but loyal clientele. A remote man, absorbed in difficult memories, Sentaro cooks with skill but without much enthusiasm. When eccentric 76-year-old Tokue responds to his ad for an assistant, cheerfully agreeing to work for minimal pay, Sentaro is sceptical about her abilities. But when she shows up early one morning and reveals to him the secret to the perfect sweet bean paste, he agrees to take her on.
Gorgeously shot and wonderfully performed, Kawase balances elements of sadness and tragedy against those of hope and wisdom in this gentle, unassuming but profoundly affecting tale.
Tuesday 25 April, 10.30am
Tickets: £5.00 on the door, reserve your place here
Director: Naomi Kawase
Cast: Kirin Kiki, Masatoshi Nagase, Kyara Uchida
Year of Release: 2015
Running Time: 113mins
Certificate: PG
Language: Japanese (with English subtitles)